Tubacex Group
Group companies > TUBACEX SERVICE SOLUTIONS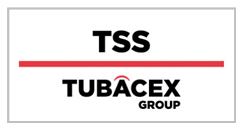 TUBACEX SERVICE SOLUTION (TSS) is the largest master distributor of seamless stainless steel and high nickel alloys tubes and fittings. With a worldwide network of own warehouses in the main hugs around the world (Spain, France, Austria, Houston, Brazil, Dubai and India), TSS is able to provide immediate product availability and a wide range of services, responding to specific customers' needs.
TSS is integrated in TUBACEX, a group of leading companies offering a series of competitive advantages in terms of production knowledge, commercial support, and administrative savings.
TSS SAU 
Polígono Industrial Saratxo
01470 AMURRIO (ALAVA)
España
Phone: + 34 945 39 36 00
Fax: + 34 945 39 34 22
WORLDWIDE
PRESENCE

The company reveals the main points of its strategy in response to the pandemic. With a focus on prevention, the aim is to guarantee the safety of all its workers, and thereby service continuity for its customers. TUBACEX has dealt with this crisis from a solid financial position, with a crisis...
read more
2019 has marked a turning point for recovery as TUBACEX order intake demonstrates. Although far from pre-crisis levels it has experienced an increase of 30% in relation to the previous year. This gradual and general market recovery is also enabling operating leverage ratios to be maintained for all business units and therefore, achieving double-digit consolidated margins.
read more