Tubacex Group
Group companies > TUBACEX SERVICE SOLUTIONS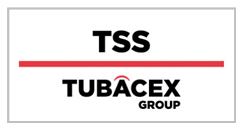 TUBACEX
SERVICE SOLUTIONS
TUBACEX SERVICE SOLUTION (TSS) is the largest master distributor of seamless stainless steel and high nickel alloys tubes and fittings. With a worldwide network of own warehouses in the main hugs around the world (Spain, France, Austria, Houston, Brazil, Dubai and India), TSS is able to provide immediate product availability and a wide range of services, responding to specific customers' needs.
TSS is integrated in TUBACEX, a group of leading companies offering a series of competitive advantages in terms of production knowledge, commercial support, and administrative savings.
General terms and conditions
TSS SAU 
Polígono Industrial Saratxo
01470 AMURRIO (ALAVA)
España
Phone: + 34 945 39 36 00
Fax:   + 34 945 39 34 22
WORLDWIDE
PRESENCE

2019 has marked a turning point for recovery as TUBACEX order intake demonstrates. Although far from pre-crisis levels it has experienced an increase of 30% in relation to the previous year. This gradual and general market recovery is also enabling operating leverage ratios to be maintained for all business units and therefore, achieving double-digit consolidated margins.
read more
TUBACEX order intake continues to grow month by month and it now stands at 40% above the average for recent years. TUBACEX is involved in the final negotiation stages of large projects expected to be closed in the short term, which will represent an...
read more