Tubacex Group
Group companies > TUBACEX SERVICE SOLUTIONS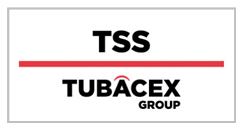 TUBACEX
SERVICE SOLUTIONS
TUBACEX SERVICE SOLUTION (TSS) is the largest master distributor of seamless stainless steel and high nickel alloys tubes and fittings. With a worldwide network of own warehouses in the main hubs around the world (Spain, France, Austria, Houston, Brazil, Dubai and India), TSS is able to provide immediate product availability and a wide range of services, responding to specific customers' needs.
TSS is integrated in TUBACEX, a group of leading companies offering a series of competitive advantages in terms of production knowledge, commercial support, and administrative savings.
General terms and conditions
TSS SAU 
Polígono Industrial Saratxo
01470 AMURRIO (ALAVA)
España
Phone: + 34 945 39 36 00
Fax:   + 34 945 39 34 22
WORLDWIDE
PRESENCE

Sales for the first half of the year amounted to €160 million, and the EBITDA stood at €0.3 million. The company has implemented a financial restructuring plan in its main business units. TUBACEX is finalizing an ambitious Strategic Plan in order to play a key role in the leadership of the global...
read more
The change in the chair has been approved by the Board of Directors, having been proposed by the Appointments and Remunerations Committee, following the Ordinary Shareholders' Annual General Meeting. Francisco Javier García Sanz was the Vice-President of the Volkswagen Group as Director of...
read more