Tubacex Group
Group companies > TUBACEX SERVICE SOLUTIONS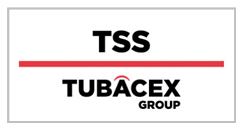 TUBACEX
SERVICE SOLUTIONS
TUBACEX SERVICE SOLUTION (TSS) is the largest master distributor of seamless stainless steel and high nickel alloys tubes and fittings. With a worldwide network of own warehouses in the main hubs around the world (Spain, France, Austria, Houston, Brazil, Dubai and India), TSS is able to provide immediate product availability and a wide range of services, responding to specific customers' needs.
TSS is integrated in TUBACEX, a group of leading companies offering a series of competitive advantages in terms of production knowledge, commercial support, and administrative savings.
General terms and conditions
TSS SAU 
Polígono Industrial Saratxo
01470 AMURRIO (ALAVA)
España
Phone: + 34 945 39 36 00
Fax:   + 34 945 39 34 22
WORLDWIDE
PRESENCE

Sales for the first quarter of the year amounted to €86.5M, down 43.7% on the same period for the previous year and the EBITDA stood at €0.1M. The low backlog for the first quarter of the year has led to low levels of activity in all of the Group's divisions. The main sector at which TUBACEX...
read more
TUBACEX ended the financial year with sales of 479.6 million euros, 21.8% less than the previous year and with EBITDA OF 38.1 million euros. Accumulated losses reached 25.3 million euros and derive mainly from negative results at the Basque production plants. The severe structural crisis affecting...
read more