Tubacex Group
Group companies > TUBACEX SERVICES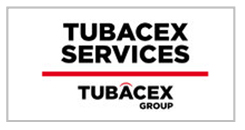 TUBACEX SERVICES is a company devoted to service and customized solutions applied to steel products. TUBACEX SERVICES provide complete project management improving organizational efficiency working collaboratively with key industry stakeholders, cultivating win-win relationships.
TUBACEX SERVICES

Avenida de Orejo 3
39719 Orejo, Cantabria
España
WORLDWIDE
PRESENCE

Sales for the first quarter of the year amounted to €86.5M, down 43.7% on the same period for the previous year and the EBITDA stood at €0.1M. The low backlog for the first quarter of the year has led to low levels of activity in all of the Group's divisions. The main sector at which TUBACEX...
read more
TUBACEX ended the financial year with sales of 479.6 million euros, 21.8% less than the previous year and with EBITDA OF 38.1 million euros. Accumulated losses reached 25.3 million euros and derive mainly from negative results at the Basque production plants. The severe structural crisis affecting...
read more