Tubacex Group
Group companies > TUBACEX SERVICES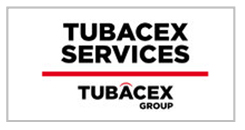 TUBACEX SERVICES is a company devoted to service and customized solutions applied to steel products. TUBACEX SERVICES provide complete project management improving organizational efficiency working collaboratively with key industry stakeholders, cultivating win-win relationships.
TUBACEX SERVICES

Avenida de Orejo 3
39719 Orejo, Cantabria
España
WORLDWIDE
PRESENCE

Profit is positive for the second consecutive quarter, consolidating the company's recovery in spite of the global context of instability. Sales for the first quarter of the year amounted to €158.1M, up 82.7% on the same period for the previous financial year. The EBITDA stood at €19M, which...
read more
The results for the fourth quarter return to positive net profit, with sales of €118.6 M and an EBITDA of €12.6 M, representing a margin of 10.6%. But for the effect of inflation on energy costs and on the value chain in general, the figures for the last quarter would have been even higher. This...
read more