Tubacex Group
Group companies > TUBACEX SERVICES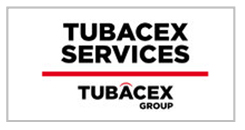 TUBACEX SERVICES is a company devoted to service and customized solutions applied to steel products. TUBACEX SERVICES provide complete project management improving organizational efficiency working collaboratively with key industry stakeholders, cultivating win-win relationships.
TUBACEX SERVICES

Avenida de Orejo 3
39719 Orejo, Cantabria
España
WORLDWIDE
PRESENCE

NTS Group CEO Paul McMillan talks to Julian Walker, Editor-in-Chief of Pipeline Oil & Gas, about the acquisition of Amega West Services. Click here to find out how the acquisition strengthens the NTS Group portfolio and how it was completed at such a challenging time for the oil and gas...
read more
TUBACEX's sales figure for the first nine months of the year amounts to €389.6 million, which is 18.2% lower than that of the same period last year; while EBITDA stands at €26.4 million, down 42.9%, with a 6.8% margin. These results, determined by the global macroeconomic and health care...
read more