Tubacex Group
Group companies > TUBACEX TAYLOR ACCESORIOS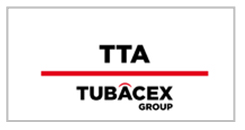 TUBACEX
TAYLOR ACCESORIOS, S.A.U.
Tubacex Taylor Accesorios, S.A. (TTA), Head Office and manufacturing plant located in Arceniega (Alava) Spain, manufactures stainless steel (also carbon and alloy) butt welding fittings (elbows and return bends), perfectly complementing the activity of Tubacex Tubos Inoxidables (TTI), as it contributes towards important added value to the products that TTI sells for projects. Their size range goes from ½'' up to 14'' NS, in short and long radius as well as in special radii.
Product:
Butt welding fittings made of stainless steel, nickel based alloys, alloy steel and carbon steel.
Elbows and return ends, in short and long radius, as well as in special radii
Concentric and Eccentric Reducers
 Fittings with Special Sizes
Application:
Furnaces and reactors for oil and Petrochemical industries.
Chemical Industry and refineries
Power Generation
Manufacturing Equipment
Heat exchangers
General terms and conditions
TTA, S.A.U.

Barrio Arenaza, 10
01474 Artziniega, Álava
España
Phone: +34-945 39 60 30
Fax:   +34-945 39 60 64
WORLDWIDE
PRESENCE

The award involves the comprehensive supply of Corrosion Resistant Alloys (CRA) OCTG solutions for gas extraction in the Middle East over the coming ten years.TUBACEX to build a new tube and thread finishing plant in Abu Dhabi which will be operational in 2024 and will employ 150 people.The award...
read more
The TUBACEX Shareholders' General Meeting culminates a cycle in which the Group gained in efficiency and made huge progress in expansion and diversification. The new Strategic Plan 2022-2025 now kicks off, with the aim of making TUBACEX the supplier of sophisticated industrial products and high...
read more