Tubacex Group
Group companies > TUBACEX TAYLOR ACCESORIOS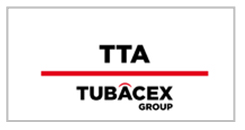 TUBACEX
TAYLOR ACCESORIOS, S.A.U.
Tubacex Taylor Accesorios, S.A. (TTA), Head Office and manufacturing plant located in Arceniega (Alava) Spain, manufactures stainless steel (also carbon and alloy) butt welding fittings (elbows and return bends), perfectly complementing the activity of Tubacex Tubos Inoxidables (TTI), as it contributes towards important added value to the products that TTI sells for projects. Their size range goes from ½'' up to 14'' NS, in short and long radius as well as in special radii.
Product:
Butt welding fittings made of stainless steel, nickel based alloys, alloy steel and carbon steel.
Elbows and return ends, in short and long radius, as well as in special radii
Concentric and Eccentric Reducers
 Fittings with Special Sizes
Application:
Furnaces and reactors for oil and Petrochemical industries.
Chemical Industry and refineries
Power Generation
Manufacturing Equipment
Heat exchangers
TTA, S.A.U.

Barrio Arenaza, 10
01474 Artziniega, Álava
España
Phone: +34-945 36 60 30
Fax: +34-945 39 60 64
WORLDWIDE
PRESENCE

The company reveals the main points of its strategy in response to the pandemic. With a focus on prevention, the aim is to guarantee the safety of all its workers, and thereby service continuity for its customers. TUBACEX has dealt with this crisis from a solid financial position, with a crisis...
read more
2019 has marked a turning point for recovery as TUBACEX order intake demonstrates. Although far from pre-crisis levels it has experienced an increase of 30% in relation to the previous year. This gradual and general market recovery is also enabling operating leverage ratios to be maintained for all business units and therefore, achieving double-digit consolidated margins.
read more