Tubacex Group
Group companies > TUBACEX TUBOS INOXIDABLES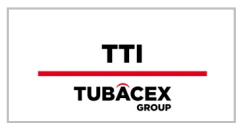 TUBACEX
TUBOS INOXIDABLES S.A.U.
TTI– Tubacex Tubos Inoxidables S.A.U. is a wholly owned subsidiary of TUBACEX S.A.,. which manufactures exclusively seamless stainless steel and nickel alloy tubes and pipes. The size manufactured through the extrusion press and the 10 cold rolling machines, goes from ½" up to 8" NPS, or 19 – 250 mm OD. The production programme covers most of the seamless specialities in stainless steel, such as pipe, heat exchanger and condenser tube, boiler and superheater tube, refinery and high temperature pipe and tube, mechanical tubing and many others.
General terms and conditions
TTI
Headquarters & Extrusion Plant
Tres Cruces 8 PO Box 22
01400 LLODIO (ALAVA)
Cold finishing Plant
Polígono Industrial Saratxo
01470 AMURRIO (ALAVA)
España
Phone: +34-946 71 93 00
               +34 945 39 36 00
Fax:   +34-946 72 50 62
           +34-946 72 50 74
WORLDWIDE
PRESENCE

The award involves the comprehensive supply of Corrosion Resistant Alloys (CRA) OCTG solutions for gas extraction in the Middle East over the coming ten years.TUBACEX to build a new tube and thread finishing plant in Abu Dhabi which will be operational in 2024 and will employ 150 people.The award...
read more
The TUBACEX Shareholders' General Meeting culminates a cycle in which the Group gained in efficiency and made huge progress in expansion and diversification. The new Strategic Plan 2022-2025 now kicks off, with the aim of making TUBACEX the supplier of sophisticated industrial products and high...
read more