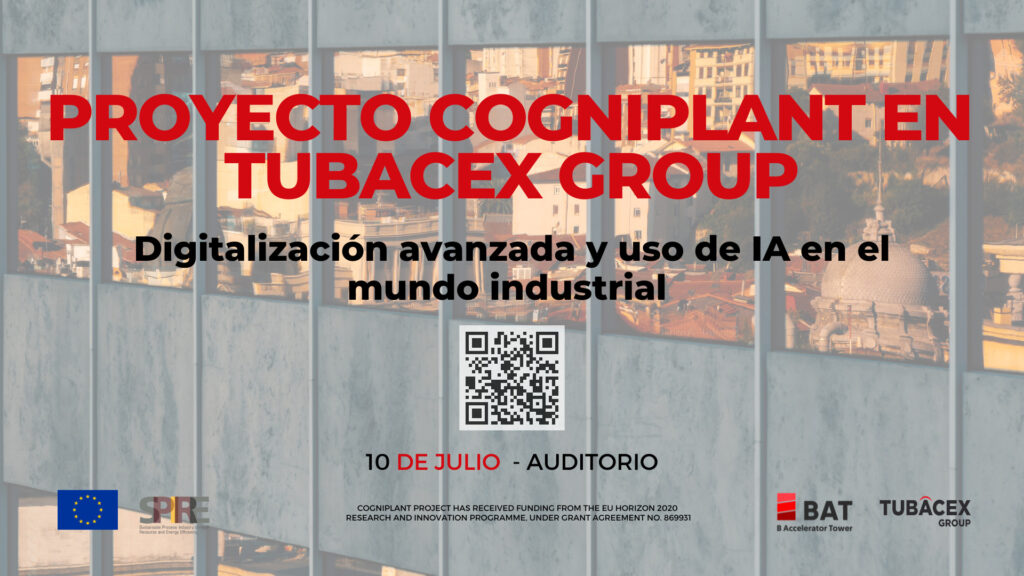 Tubacex is part of a broad consortium of organizations involved in the Cogniplant project, which is being developed under the Horizon 2020 program, a European Commission initiative for research and innovation funding. With a budget exceeding 8.5 million euros, the Cogniplant project aims to create a cognitive platform to enhance the performance and sustainability of European industrial processes, through to advanced digitalization and intelligent management of industrial processes.
It aims to utilize innovative developments in advanced analytics and cognitive reasoning, along with a disruptive use of the concept of Digital Twins, to enhance the operational performance of production plants. Cogniplant will provide hierarchical monitoring and control of operations, offering comprehensive insights into production performance, energy consumption, and resource utilization.
The project consortium consists of various companies involved in Cogniplant, including Ibermatica SA, Ideko, S.Coop, Technische Universitaet Muenchen Ingeteam Power Technology SA, Hermes Schleifmittel Ges.M.B.H., Savvy Data Systems SL, Software Competence Center Hagenberg gmbh Logpickr, Mr. Nec B.V., Stam srl, Fornaci Calce Grigolin SPA, Core Innovation and Technology OE, Aughinish Alumina Ltd, and Acería de Álava, S.A. (Tubacex Group).
The goal of the project is to advance towards true Industry 4.0. The envisioned solutions are expected to deliver significant improvements, including up to a 68% enhancement in real-time control of the production environment, a 65% improvement in quality control of final products, and a 70% reduction in response time to unforeseen or uncontrolled incidents.
In the initial phase, the concept will be implemented by four end users from different SPIRE industries (Sustainable Process Industry through Resource and Energy Efficiency): a chemical plant in Austria, an aluminum refinery in Ireland, a manufacturing industry in Italy, and a metallurgical industry in Spain, Tubacex.
As part of the Cogniplant project, Tubacex's task is focused on two main areas. Firstly, the installation and development of digitization technologies tailored to the steel industry. Secondly, data extraction for analysis and monitoring activities. The factory is preparing for the implementation of data analysis, digital twin, and intelligent monitoring technologies. Its primary Key Performance Indicators (KPIs) in the Cogniplant project revolve around production performance in terms of quality, reduction in energy consumption, and reduction of CO2 emissions.
On July 10th, starting at 11 a.m., Tubacex will organize a meeting at the BAT Tower in Bilbao, where they will present the conclusions of the implementation of these digitization technologies in their steel mill industrial process. The title of the meeting is "Advanced Digitalization and the Use of Artificial Intelligence in the Industrial World."