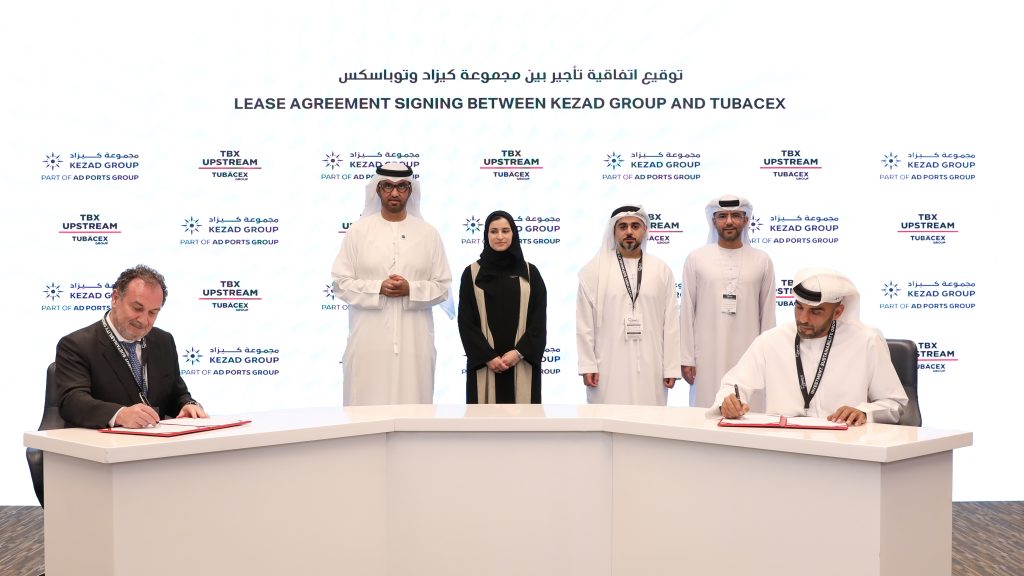 Tubacex signs land lease agreement for OCTG CRA tubes manufacturing plant in Abu Dhabi
 As part of Tubacex's contract with Abu Dhabi National Oil Company (ADNOC) signed in 2022, the Spanish company will construct a new pipe finishing and threading plant in the Emirate.
The new plant, the first of its kind in the Middle East, is expected to be operational by the end of 2024 and will employ 150 people.
The ceremony was attended by the Minister of Industry & Advanced Technology and CEO of ADNOC, H.E. Dr. Sultan Ahmed Al Jaber, along with Mr Abdullah Al Hameli, CEO of Economic Zones & Free Zones at AD Ports, and Captain Mohamed Al Shamisi (MD & CEO AD Ports Group), and Jesús Esmorís, CEO Tubacex, among other authorities.
Tubacex has signed a land lease agreement with Khalifa Economic Zones Abu Dhabi – KEZAD Group, the integrated economic and industrial center of Abu Dhabi, for the construction of a new pipe finishing and threading plant in the Emirate. This state-of-the-art plant will be erected in a 50,000 square meters plot, and follows the roadmap agreed between Tubacex and the Abu Dhabi National Oil Company (ADNOC) last year for the supply of comprehensive OCTG-CRA (Oil Country Tubular Goods in Corrosion Resistant Alloys) solutions used in natural gas extraction.
This $100 million project comes to fruition as the In Country Value program launched by the Ministry of Industry and Advanced Technology (MoIAT) gains traction. The facility will be the first of its kind in the Middle East, with the expected start of operations towards end of 2024.
The new plant will ensure the reliable supply of critical components to support ADNOC's natural gas production expansion, while strengthening Tubacex's positioning and commitment in the Middle East, a strategic region in the global energy transition.
The agreement was signed in the presence of the Minister of Industry and Advanced Technology and CEO of ADNOC, Dr. Sultan Ahmed Al Jaber, at the "Make in the Emirates" Forum organized by MoIAT (Ministry of Industry and Advanced Technology) in collaboration with ADNOC and the Department of Economic Development of the Emirate.
Mr Abdullah Al Hameli, CEO of Economic Zones & Free Zones at AD Ports, stated, "KEZAD continues to welcome world-class companies to establish a presence in Abu Dhabi as we progress towards becoming the region's premier hub for manufacturing and innovation. Tubacex's global leadership in tubular solutions aligns perfectly with our vision of industrial excellence. Our infrastructure and services will help the company enhance its offerings and benefit not only Abu Dhabi's industrial ecosystem but also the international markets from its base in KEZAD."
Furthermore, Tubacex´s Group CEO, Mr Jesús Esmorís, stated: " This investment further strengthens our commitment to ADNOC and the UAE. KEZAD, have proven to be the right location providing an exceptional operational framework and connectivity with regional and global customers. Tubacex will implement the most advanced and sustainable manufacturing technologies in Abu Dhabi, ensuring the supply of a key component necessary for the UAE to achieve its growing natural gas production targets, which play a crucial role in the energy transition landscape."
About KEZAD Group
KEZAD Group, a subsidiary of AD Ports Group under its Economic Cities & Free Zones Cluster, is the largest operator of integrated and purpose-built economic zones in the United Arab Emirates. Providing competitive business ecosystems that encourage unprecedented growth, KEZAD Group is a key strategic enabler of Abu Dhabi's vision for the diversification of its economy. KEZAD Group's vital infrastructure and services span twelve economic zones (located in Abu Dhabi City, Al Ain City and Al Dhafra Region) covering a total area of 550km2 and including more than forty staff accommodation complexes under its subsidiary KEZAD Communities.
KEZAD Group provides strategic market access, lower operating costs, and ease of doing business to more than 1,850 investors from 17 key industrial sectors. KEZAD Group's ecosystem provides world-class transportation infrastructure with multimodal connectivity, the potential for duty-free trade within the region, and advanced technology platforms.
About TUBACEX
Tubacex is a global leader in the design, manufacture, and installation of advanced industrial products and high-value-added services for the energy and mobility sectors. Tubacex brings value to its customers through its global presence, with production plants and service centers in Spain, Austria, Italy, the United States, India, Thailand, Saudi Arabia, Dubai, Norway, Canada, Singapore, Guyana, and Kazakhstan. Its sustainability and environmental policies are endorsed by major ESG certification bodies, such as Science Based Targets (SBT) emissions reduction commitments, a CDP (Carbon Disclosure Project) rating of A-, and sustainability standards from S&P and Ecovadis. Tubacex has been listed on the Spanish Stock Exchange since 1970 as part of the Ibex Small Caps Index.